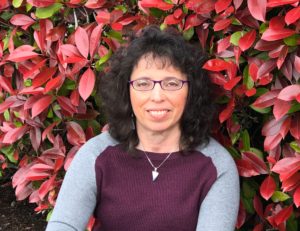 I am a therapist with strong intuition and diverse experience. I work with individuals and couples in supportive and creative ways.  In a safe space, we can develop practical, creative, and immediate solutions that build on your unique strengths and move you closer towards your goals. The issues we can address include dealing with existential or acute traumatic stress, financial therapy, career counseling, ADHD, dealing with life, parenting or relationship challenges, addictions, immigration-related adjustments, or sports performance.
My Qualifications
I hold a Master's degree in Clinical Mental Health Counseling. I have completed specialized post-graduate training in:
Brainspotting Therapy – Phases 1, 2; and 3, 4 – with Dr. David Grand
Gottman Method Couples Therapy – Levels 1, 2, and 3

Gottman Method – Treating Trauma and Affairs
Gottman Method – Treating Couples in Addiction Recovery

SMART Recovery facilitating
Problem Gambling Treatment in Oregon

Healing the Fragmented Selves of Trauma Survivors: Overcoming Self-Alienation – with Dr. Janina Fisher

Acceptance and Commitment Therapy (ACT) for Adult ADHD
I am a National Certified Counselor (NCC) and a Licensed Professional Counselor Intern registered in the State of Oregon under the supervision of Keith Mackie, LPC. In my private practice, I integrate Cognitive Behavioral, Internal Family Systems, and Narrative therapies with Brainspotting therapy, Somatic techniques, and principles from Neuroscience.
Who Am I Really
I enjoy getting to know people and building deep and meaningful relationships. My clinical experiences with individual adults and couples include treating trauma, PTSD, anxiety, depression, addiction, grief, ADHD, immigration and acculturation challenges, financial struggles, career exploration, and relationship issues.
Prior to becoming a counselor, I had a successful management and technology career in the financial, IT, healthcare, academic, and automotive sectors. My previous job titles included: programmer-analyst, software developer, systems engineer, research scientist, business analyst, product manager, project manager, and a certified scrum master. My Bachelor's degree was in Computer Science and my previous Master's degrees were in Computer Engineering and in Business Administration. I have lived in Europe, on the East Coast of the US, and in the Midwest, but I consider myself an Oregonian because I have lived in Oregon the longest. Outside of counseling and doing psychotherapy research for fun, you will find me reading voraciously, playing outdoors, practicing Pilates, and spending time with my amazing family and friends.